Updated September 2021
Risk and severity
The annual number of people killed per million inhabitants over 2018-2020 is generally higher in the French overseas territories than in mainland France. While it is 46 in mainland France, it is 51 in Réunion and 70 in Martinique. The rate is 114 in Guadeloupe, 115 in French Polynesia and 123 in French Guiana, i.e. higher than the highest rate in the European Union (103 in Romania in 2019) but comparable to the USA (127 in 2019). With 173 deaths per million inhabitants, New Caledonia has a higher rate than New Zealand (96 in 2019) or the Australian continent (49 in 2018). For Mayotte, the rate is currently 36, but the recording of accident statistics is not yet systematic. The rates observed in Saint-Pierre-et-Miquelon, Saint-Barthélemy, Saint-Martin and Wallis and Futuna are not significant.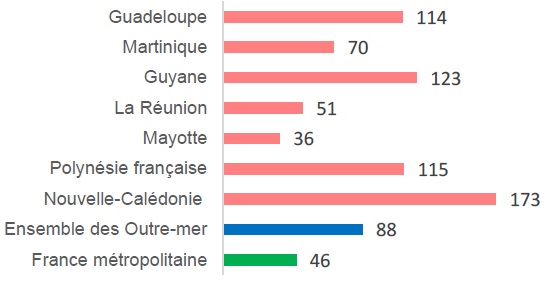 A young population
38% of the population of the Overseas Departments and Territories is under 25 years of age compared with 30% in mainland France. Half of the population of overseas France is under 35 years old, whereas in mainland France the median age is close to 41.
The calculation of mortality per million inhabitants for each age group shows, as in mainland France, an over-representation of young people aged 18 to 24.
More particularly in overseas France, there is an over-representation of 25-34 year olds, whose mortality rate per million inhabitants in this age group is three times higher than that observed in metropolitan France. The mortality rate per million inhabitants for the 25-34 age group is particularly high in New Caledonia (399) and to a lesser extent in French Guyana (271) and Guadeloupe (207). The mortality rate for 25-34 year-olds is up to twice that of the population as a whole in overseas France, whereas the ratio is only 1.3 in metropolitan France.
For the under-18s, the mortality rate observed in overseas France is 27 people killed per million inhabitants in this age group, i.e. twice that of metropolitan France where it is 12. It reaches 66 in French Polynesia, 64 in New Caledonia and 37 in French Guiana.
 
Mortality per million inhabitants overseas by age (average 2018-2020)