Many surveys are organized by various sponsors, both public and private. The topics covered are varied: alcohol, telephone driving, professional road risk, behaviour of parents who drive.... ONISR monitors and presents a panel of results each year in the road safety report.
Knowledge of user behavior and reactions via opinion polls or focus groups (groups of about ten people who discuss the subject) makes it possible to better target actions, develop prevention campaigns and monitor their effectiveness.
Inattentive driving
44% of respondents to the 12th Vinci Foundation barometer rank inattention as one of the main causes of fatal accidents. Nevertheless, risky behaviors are more numerous than before, such as the use of the telephone, for which 61% declare using it for calls while driving, 42% of which regularly.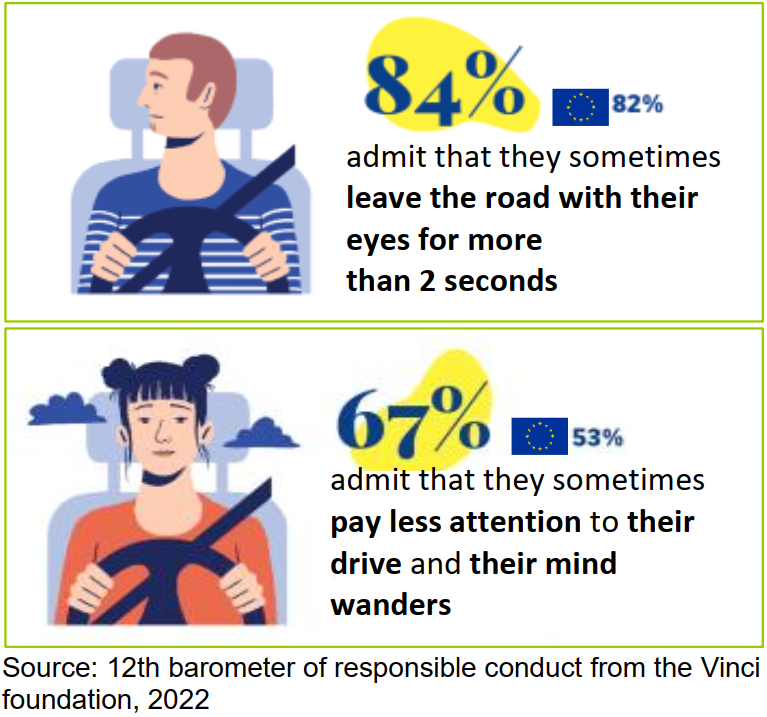 Drowsiness on the highway
Respondents to the Vinci Foundation barometer identify drowsiness as the 2nd leading cause of fatal freeway accidents, behind speed. The French are well aware of the risks on the freeway, as 16% have already had or almost had an accident due to drowsiness (9% in 2018) and 1 in 3 French people have already felt as if they had fallen asleep at the wheel.
However, effective reflexes to prevent drowsiness are gradually being adopted by drivers:
82% of respondents schedule their departure at times when they are less likely to be tired;
73 % change drivers on the way;
65 % stop for a nap on the way.
Incivilities are still omnipresent
As before the health crisis, the French consider themselves to be good drivers and identify others as bad drivers: 74% consider themselves to be vigilant (54%) and calm (54%) but consider others to be irresponsible (43%) or dangerous (40%). The result is a feeling of insecurity, as 88% have already been afraid of the aggressive behavior of another driver. Risky behavior is also on the rise, with 9 out of 10 French people saying they exceed the speed limit by a few kilometers per hour. 57% forget to put on their blinker when necessary and 14% admit to driving over the legal alcohol limit.
The occupational road risk
The IFOP survey for MMA on occupational road risk reports a lack of awareness of this risk, as 83% of managers and 67% of employees are unaware that it is the leading factor in workplace accidents (stable since 2015). However, 6 out of 10 managers consider themselves sufficiently informed about the issues and rules of occupational road risk in companies, but only 18% say they have implemented prevention actions for employees.
Alcohol and mobility on New Year's Day
According to the national survey conducted by the Association Prévention Routière on "The French, New Year's Eve and drinking and driving" in the run-up to New Year's Eve, almost 83% of the population surveyed planned to consume alcohol during the evening (down 3.8 points compared to 2019).