Main accident indicators for French mainland regions - update september 2022 data
Main regional indicators for France mainland
In 2021, 3 regions recorded around 350 deaths (Occania, Auvergne-Rhône-Alpes, and Nouvelle-Aquitaine) and 4 between 240 and 300 deaths (Grand-Est, Auvergne-Rhône-Alpes, and Nouvelle-Aquitaine).
The risk, in relation to the population
Over 2017-2021, 47 people per million inhabitants died in France mainland. The regions of Ile-de-France (23) and Hauts-de-France (41) have a lower than average risk. The risk is highest in Bourgogne-FrancheComté (72) and Corsica (78).
The risk for 18-24 years old (96) is twice as high than the average (47). It is highest in Occitania (127), Nouvelle-Aquitaine (128), PACA (129), CentreVDL (139), Corsica (148), Bourgogne-F-C (152).
The risk for 25-34 years old is 64, but it is 82 in Centre-VDL and Nouvelle-Aquitaine, 84 in Occitanie, 89 in PACA and 109 in Bourgogne-F-C.
Mortality per million inhabitants for those aged 65 and over (58) is very high in Bourgogne-F-C (84) and Corsica (99); low in Ile-de-France (34).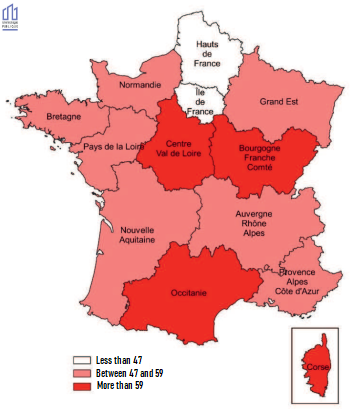 A variety of mobility practices
As mobility practices differ from one region to another, the distribution of people killed by mode of travel varies greatly.
The share of pedestrians among those killed is 15% in metropolitan France and varies from 9% in Bourgogne-Franche-Comté to 26% in Île-de-France.
The share of cyclists among those killed is 6%. It varies from 4% in Centre-Val de Loire and Corsica to 9% in Brittany.
Motorcycle users account for 23% of fatalities in 5 years. They are strongly represented among those killed in Corsica and PACA (33% and 37% respectively). The Auvergne-Rhône-Alpes, PACA and Ile-de-France regions account for 39% of the 2WDs killed in metropolitan France.
38% of people killed are killed in an accident involving a user on a home-to-work or work trip, which is half of the people killed in Ile-de-France. Over the 2017-2021 period, motorized bicycles are strongly represented (38%) among people killed during a home-work trip: 4 out of 10 people killed in Auvergne-Rhône-Alpes, Normandy and Ile-de-France and up to 6 out of 10 people killed in PACA.
Alcohol and/or drugs are involved in 43% of deaths in metropolitan France. Some regions are more heavily involved (47% in Corsica and Pays-de-la-Loire and 48% in PACA). Bourgogne-F-C and Centre-VDL have on average a slightly lower proportion of people killed in accidents involving alcohol and/or drugs (39%).